What happens when you ask for a Conservative to lead you? Alabama found out, as we see here...
"Alabama GOP is getting what it asked for."
"They ran on the disingenuous rhetoric of no taxes and now they're getting exactly what they asked for. They refuse to talk about the 58% of companies that don't pay Alabama taxes, they won't talk about property or land use taxes, and they are still peddling the delusion that there's still lots and lots to cut. Hmmm... State Troopers office? Forensics Lab? Maybe, all those champions of largesse at the DMV?
"It turns out that the taxes they hate so much are the ones that pay for basic public services, which, by the way, is what government is supposed to provide because of that whole social contract thing. They asked for this and now they can try to figure out a way to run government without funding.
"The Republicans, that used to be Democrats until the Democrats quit being Dixiecrats, are now demonizing and blaming the actual Democrats while advocating Democratic policies and ideas because they suddenly discovered that it costs money to run a government which apparently is not a plank in the GOP platform. It's like Alabama conservatives have some sort of political multiple personality disorder..."
Naturally, your Conservative politician is going to be "pro-life..."
...and they get other things mixed up too..
...really mixed up...
Their fan base is kinda weird too...
...as we see a whole bunch of them begging for your vote...
...especially the ones who claim that God speaks to them!
But getting back to our topic of Conservatives who want to be your ruler, kthere are a ton of them this year like this guy...
...and this guy...
...and this guy...
(You remember that guy and his charming family, don't you?)
...and this guy...
...and this guy...
...and this guy...
...and this guy and gal...
...and this lady...
And even more of them - if you really think that Conservative women are really "ladies."
But ALL of them will work to help you in every way they can...
...because here is what they believe...
...since the Cons thrive in logical thinking and all that science stuff...
...because that's just the way they are.
Finally, this should remind you what to do when you enter the voting booth after the Cons beg you for your vote...
...and so should THIS.
********************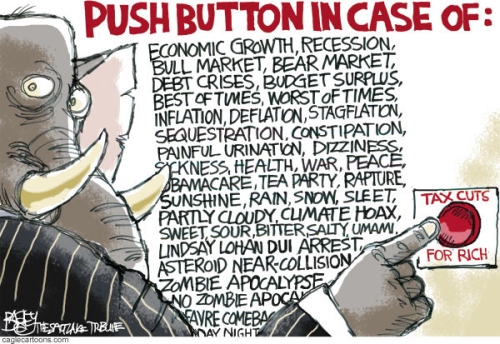 The basis of Conservative governance is simple: Lower taxes to zero for the rich and stop or eliminate any and all regulations that protect the consumer from fraud and corporate greed.
Conservatism claims to be God's Party and will lie and steal and kill to get what they want while pretending to be something else - like "legitimate businessmen."
Criminal cartels do this too, and to eliminate organized crime, we make their nefarious activities against the law.
Shouldn't we be doing the same to protect ourselves from the scourge of Conservatism by...
...criminalizing Conservatism?
Joyce, Jnr.
---------------------------------------------------------------------------------------------------------------------
''We need to execute people like (John Walker Lindh) in order to physically
intimidate liberals.''
Ann Coulter.
---------------------------------------------------------------------------------------------------------------------