The difference between "damaging" and "destroying" is stark, so we'll be careful answering this question.
Our first piece of evidence: A gentleman from Harvard says Faux News is "damaging" us (but everyone knows that Harvard is a commie hotbed)...
"Departing Harvard Media Center Chief: Right-Wing Pundits Are 'Damaging' America."
"Right-wing commentators like Rush Limbaugh and Bill O'Reilly have damaged the country, according to Alex S. Jones, the outgoing head of Harvard University's Shorenstein Center on Press, Politics and Public Policy, who announced his departure Wednesday after 15 years leading the prestigious media training center.
"'I wish they could be more objective, I don't begrudge them their particular politics, I just wish they weren't simply one note, I think it's damaging,' said Jones, a former media writer for The New York Times and longtime media critic.
"Jones cited the conservative media's coverage of President Obama: 'Obama certainly is the president and the president is always legitimate prey for criticism, but I don't think that they have done a good thing for our country to be completely undermining him in every way they possibly could. I don't think that's good for any president, Republican or Democrat...'"
Yes, we know that there are some other stereotypes on Fox other than old white men...
...but some are blonder than others.
Did we mention the word "stereotypes?"
But let's stick to the old white men for a minute...Do you think Teddie had Fox Noise in mind when he said this? Ah well, if the shoe fits...
"Ted Nugent Has A Message For Media 'Retards.'"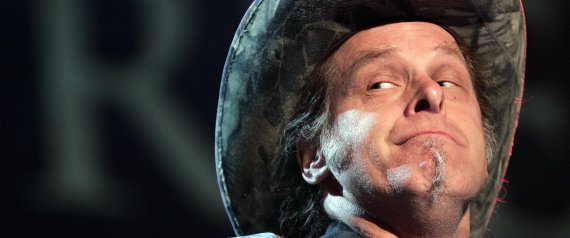 Ted Nugent in a 2006 file photo. | Morry Gash/AP
"Ted Nugent has never been known for political correctness. So it's not entirely surprising that on Wednesday, the right-wing rocker reposted a message on Facebook that includes the word 'retard.'
"'My openletter to all the braindead hippie logic-challenged dipshits in the media who dedicate their lives to hiding from truth facts history & evidence,' Nugent wrote. 'Read em & weep numbnuts. We pray for you.'
"The 'openletter'
is actually a meme that has been making the rounds for years.
"''
Not every flower can say love, but a rose can,' it reads in part. 'Not every plant survives thirst, but a cactus can. Not every retard can read, but look at you go, little buddy..!'"
Here's an example of Fox's "news" that seems to suggest the extremists over at Fox are hell-bent on DESTROYING America...
To do that, this is how they explain our history...
And this is how they tell us all about science...
There are few that doubt that Fox is an objective news organization, but are they just another radical group who is really assisting the terrorists?
"Taking Sides: Fox News Is The Foremost Propaganda Arm For The World's Terrorists."
"For several years now Fox News and other conservative media have feverishly demanded that President Obama explicitly associate terrorism with Islam. They have accused Obama of being weak, and even treasonous, for his reluctance to do so. Following the Charlie Hebdo tragedy in Paris, the calls for such symbolic rhetoric have built up to deafening levels as Fox ignores the bigger issues in favor of trivial sloganeering.
"However, those who articulate this criticism are missing an important point that demonstrates that, not only is the President right, but the critics are overtly aligning themselves with the terrorists.
"The logic is really quite simple. When you look at who is insisting that the terrorists be called Muslims you will see only the terrorists themselves (i.e. Al Qaeda, ISIS, etc.), Fox News, and their allies on the far right. On the other side is Obama, religion and terrorism experts, and most of the world's Muslims. So the real question here is why is Fox News joining with the terrorists in an effort to brand their heinous activities?
"What Fox News is doing is a revolting breach of ethics. They are acting as the PR department for the terrorists who desperately aspire to be regarded as the legitimate voice of Islam. They couldn't ask for a better partner than Fox in their efforts to brand themselves and to disseminate their pro-terror propaganda..."
Fox's brand of propaganda is just entertainment, of course...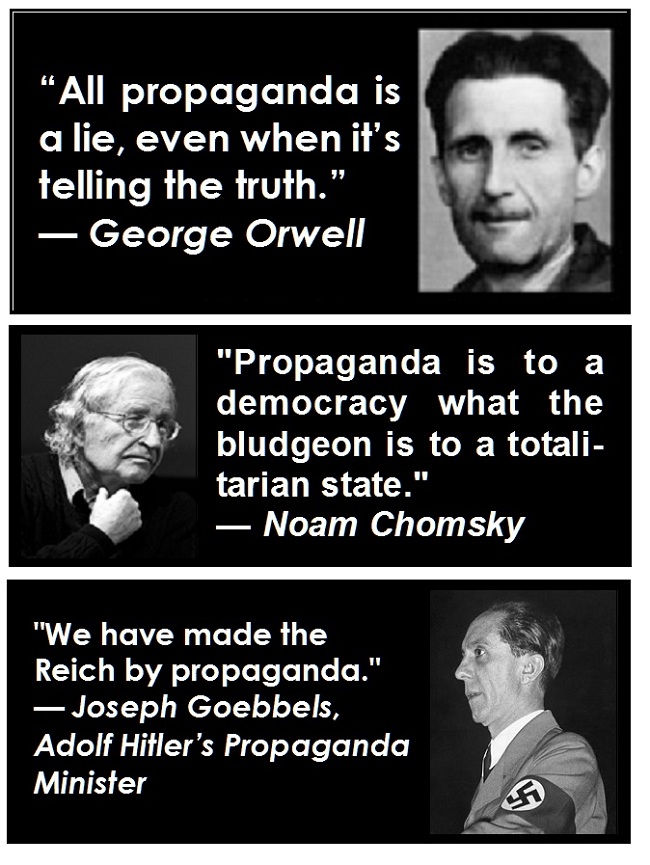 As a Fox News addict, you say that Fox tells the truth sometimes?
Well, there's truth and then there's Fox truth...
Before you reach for an antidote to all that pro-terror propaganda from Fox...
...you might keep one thing in mind:
"Most People Who Watch Bill O'Reilly Are Rapidly Approaching Death."
"All of the cable news networks have struggled this month — May is always slow and CNN no longer has the missing-plane bubble to make it look like a viable competitor — but buried in Bill Carter's New York Times ratings survey today is the fact that the Bill O'Reilly audience just keeps getting older.
"Fox News and its Papa Bear had their worst month since 9/11 among the valuable 25–54 demographic, and while the Factor still crushed its rivals overall, 'The median age for Mr. O'Reilly's audience reached a new high, 72.1.' The median! Fox News' success among senior citizens is well documented, but even more than a Democrat as president to fearmonger about, the network is coming to rely heavily on modern medicine. It may soon be time to reconsider Obamacare."
But to answer our original question, we vote for "destroying Amerca." What do you say?
Between Fox "News" and Rush Limbaugh, America has been brought to her knees in a relatively short period of time.
Lies and more lies, coupled with blatant propaganda has been spoonfed to the masses and the masses don't know what's real and what is food for the richest and greediest among us.
The Conservative propaganda has been brought to you courtesy of your friendly folks at Fox News, and t
his is the same style of propaganda that brought Germany down through identical tactics formulated by Mr. Hitler and Mr. Goebbels.
We often say that we could have done something about the Nazis in the 30s before millions died, and we say that the best way to kill Conservatism in it's tracks before thousands more die or are pushed into even deeper poverty than they're in now is s
imple: Just criminalize Conservatism. (Joyce, Jnr.)
---------------------------------------------------------------------------------------------------------------------
"Here you are, you're a liberal, probably define peace as the absence of conflict.
I define peace as the ability to defend yourself and blow your enemies into
smithereens."
Fox News host Sean Hannity (October 2009)
---------------------------------------------------------------------------------------------------------------------