"This country has come to feel the same when Congress is in session as when the baby gets hold of a hammer," said
Will Rogers. And this Congress is going to be carrying a sledge hammer.
Let's take a look and see what they have in store for us over the next two years - remembering that YOUR inability to get to the polls got them there - and this is just from their first day...
That's pretty sad, but Congress does wish us all a Happy New Year - with the help of the Conservative extremists and some of your favorite DINOs!
"Happy New Year, Wall Street: Congress Has Another Gift For You."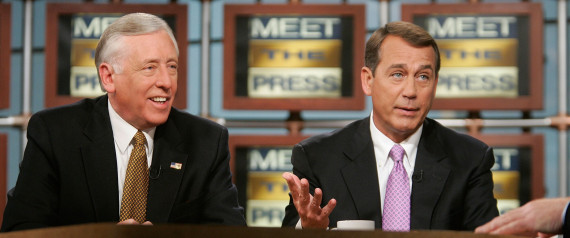 House Speaker John Boehner (R-Ohio) speaks as House Minority Whip Steny Hoyer (D-Md.) listens during a taping of "Meet the Press" at the NBC studios Feb. 11, 2007, in Washington. (Photo by Alex Wong/Getty Images for Meet the Press) | Alex Wong via Getty Images
"WASHINGTON -- After stuffing Wall Street's stockings in December with subsidies for risky trading, the House of Representatives plans to wish big banks a happy New Year on Wednesday by hacking up and delaying the Volcker Rule.
"The Volcker Rule is a key reform adopted after the 2008 financial meltdown that bans banks from gambling in securities markets with taxpayer money -- a tactic known as proprietary trading. But under legislation slated for a Wednesday vote, banks would be given a two-year reprieve from unloading some of their riskiest holdings -- known as collateralized loan obligations.
"The deregulation measure is one of 11 changes to the 2010 Dodd-Frank financial reform law that Republicans will bring to the floor under a single bill Wednesday. The legislation can only pass the House if dozens of Democrats support it, since the bill will be brought up under special rules that require a two-thirds majority for approval. Rep. Keith Ellison (D-Minn.) will lead the opposition to the bill for Democrats on the House floor. Ellison will likely be opposed by House Minority Whip Steny Hoyer (D-Md.), who voted for a similar bill in April, and supported the bank subsidy in December..."
Some of the Cons have some old business to attend to...
...because their job is never done.
But we all have high expectations for the new gang(sters)...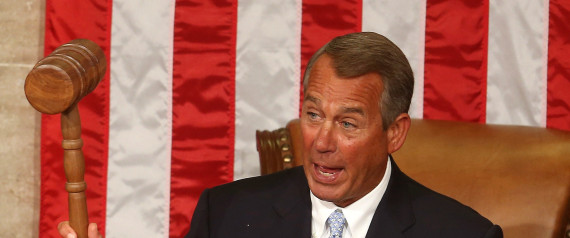 WASHINGTON, DC - JANUARY 06: Speaker of the House John Boehner (R-OH) holds his speakers gavel during the first session of the 114th Congress in the House Chambers January 6, 2015 in Washington, DC. Today Congress convened its first session of the 114th Congress with Republicans controlling both the House and Senate. (Photo by Mark Wilson/Getty Images) | Mark Wilson via Getty Images
"HUFFPOLLSTER: Low Expectations For New Congress."
"Few Americans expect the new Congress to get more done than the last. Fewer American Jews identify as Democrats than in 2008. And we remember Phil Converse and Thom Riehle. This is HuffPollster for Wednesday, January 7, 2015.
"AMERICANS UNWOWED BY PROSPECTS OF NEW CONGRESS Jeremy Diamond: 'he Republican Senate takeover is a hot conversation topic in Washington, but outside the nation's capital, Americans aren't feeling much of a change as the new Congress gavels into session on Tuesday. About 6-in-10 Americans believe the new Congress won't get more done compared to the previous Congress, according to a CNN/ORC poll released Tuesday. And about half of Americans surveyed said they don't expect Congress to be more or less responsive this time around….Just 28% of Americans think the Senate will be better off with Republicans wielding the gavel and controlling the flow of legislation to the Senate floor. And 24% think Republicans will do a worse job.' [CNN]..."
Because that's just the way they are...
We've known all about the Cons in Congress for a long time, of course...
And they still have the same old ideas and values today as they did back then...
...because the Cons are the "tough guys..."
So you'll probably be okay even though you stayed home -- or voted for those Criminals...won't you?
Sure, you will. After all, what's a little corruption between friends...
There's just one guy standing between you and disaster, the guy with the veto pen - and he's looking forward to stopping the Conservatives from taking us into the New American Age of Feudalism.
Are you still of the opinion that the Conservatives are public-spirited Americans out to help the country out of the goodness of their hearts?
Do you believe that they are just defending themselves from class warfare?
Or do you have an above-average IQ?
Because there's only one way to stop the Cons permanently, and that is to...
...criminalize Conservatism.
Joyce, Jnr.
---------------------------------------------------------------------------------------------------------------------
"It could probably be shown by facts and figures that there is no distinctly
American criminal class except Congress."
Mark Twain (1835 - 1910).
---------------------------------------------------------------------------------------------------------------------