While some people think we have a gun problem in the U.S., the rest of know we do. But then there are idiots like this one...
"Woman in body armor drove around Chattanooga shooting at people."
"A woman dressed in body armor fired shots at multiple people yesterday afternoon, resulting in a police chase on Hixson Pike, which ended in the woman's arrest.
"Chattanooga Police officers first responded to a report of shots fired on 1300 Cloverdale around 3:52 p.m., according to a news release from the Chattanooga Police Department.
"Once the officers arrived on scene, they found two victims who said they were at a stop sign when the suspect, Julia Shields, pulled up in a dark colored sedan and fired shots into their vehicle, the release said.
"A short time after this incident, police received several additional calls reporting that Shields was pointing her firearm at people as she drove pass them..."
Some say that something like this could only happen in America...
But America suffers from their gun fixation...
Sometimes the media will report on this, but usually not...
People who work in the emergency rooms across the country know all about it, of course...
...while others point their fingers.
Some mourn, and others cheer...
...and others just wave their hands in the air.
...because guns and politics and race are curiously intermixed.
And sometimes even religion gets into the act...
So just repent and reload...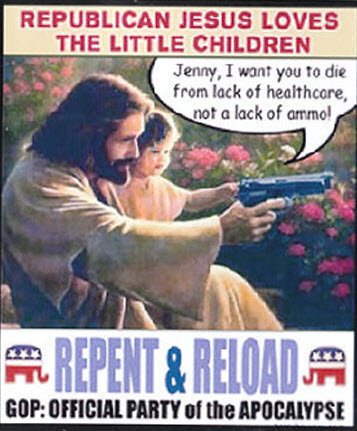 ...since gun nuts on the right are pretty nutty...
...and by "nutty," we mean totally insane.
But as long as we can tell the good guys from the bad guys, we're okay...
********************
When it comes to guns, the Conservatives are the ones who made this mess, but for some of them there are other problems.
There are probably over 300,000,000 guns in the U.S., and "...the

figures show

that there have been 16,808,538 applications in 2012 so far to the end of November. If they were approved, that would be enough weapons to stock every member of Nato's armed forces nearly five times over. The system has received 156,577,260 applications since 1998 and the US has the highest gun ownership rate in the world."
It may be too late to eliminate all these weapons, but we CAN criminalize Conservatism and take the glamour away from the Conservative crazies. Joyce, Jnr.
---------------------------------------------------------------------------------------------------------------------
"We say keep your change, we'll keep our God, our guns, our constitution."
Sarah Palin.
---------------------------------------------------------------------------------------------------------------------