Republicans are all Conservatives, and they always were, and f
or those who don't qualify as

Low Information Voters

, the Conservative love for torture is puzzling.
Even when confronted with proof that Bush and Cheney instituted their illegal "enhanced interrogation" system, proof that they lied about it, and even pictures of the disgusting torture that produced NO results, they STILL defend torture.
Let's see if we can figure out why the Cons love torture so much...
"
The Torture Party: Why Republicans Defend the Most Sadistic Government Program in Recent History.
"
"Bret Baier, asked Cheney about Bush's reported discomfort when told of a detainee's having been chained to a dungeon ceiling, clothed only in a diaper, and forced to urinate and defecate on himself. 'What are we supposed to do? Kiss him on both cheeks and say "Please, please, tell us what you know?"' Cheney said. 'Of course not. We did exactly what needed to be done in order to catch those who were guilty on 9/11 and prevent a further attack, and we were successful on both parts.'
"Here, finally, was the brutal moral logic of Cheneyism on bright display. The insistence by his fellow partisans on averting their eyes from the horrible truth at least grows out of a human reaction. Cheney does not even understand why somebody would look away. His soul is a cold, black void..."
Even Cheney's pal, Fat Tony Scalia, defends it in a way that makes us wonder where he got his law degree...
"Justice Antonin Scalia Says The Constitution Is Silent On Torture."
"WASHINGTON (AP) — Supreme Court Justice Antonin Scalia is joining the debate over the Senate's torture report by saying it's hard to rule out the use of extreme measures to extract information if millions of lives were threatened.
"Scalia told a Swiss broadcast network that American and European liberals who say such tactics may never be used are being self-righteous.
"The 78-year-old justice said he doesn't 'think it's so clear at all,' especially if interrogators were trying to find a ticking nuclear bomb. Scalia has made similar comments in the past, but he renewed his remarks on Wednesday in an interview with Radio Television Suisse, a day after the release of the Senate report detailing the CIA's harsh interrogation of suspected terrorists..."
As we examine the typical hate-filled Conservative mindset, there is ONE possibility...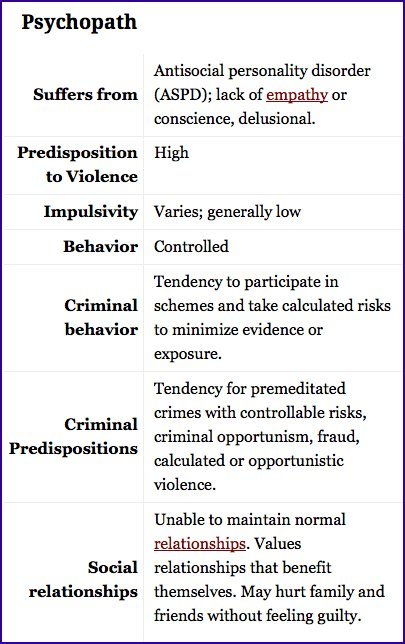 (By the way, it you dispute the fact that the Cons like the thought of torture, here's the proof that they LOVE it...)
"Your Guide to Republicans Defending Torture."
"Right-wingers love torturing terrorists.
"This is nothing new, but it's especially reprehensible now that we know the CIA used tactics like forcing hummus into a man's rectum to obtain "complete control" and shackling men with broken feet into standing positions. Here's a solid sample of the politicians, pundits and security-state nutjobs who are barely even bothering to pretend these horrible tactics resulted in actionable intelligence. These are the people who are literally pro-torture for torture's sake – people who think it was justified either because the detainees deserved it or that their rights aren't worth considering in the first place.
"Former Republican Congressman Joe Walsh
"According to Walsh, who served Illinois from 2011 to 2013, terrorists deserve to be tortured because treating them sadistically has a deterrent effect..."
(For the rest of the Cons who love torture, click here -->

http://thedailybanter.com/2014/12/heres-republicans-defending-torture-terrorists-deserved/

)
And who is responsible for this horrific tale?
And what does the guy who was in charge feel about what he did?
But that's just the way these criminals think - whether it's about torture or police brutality...
But here is the solution to bring these criminals to justice...
Do you still think there's no difference between liberal-thinking Americans and Conservatives? Think again!
********************
Torture is just a part of the Conservative "movement." Billionaires call the tune, and the American Taliban dances to it until they convince everyone that they somehow are helping the nation, instead of relentlessly seeking its destruction through its call for class warfare against the middle class and the poor.
It's all working, and the Cons couldn't be happier...unless it's to own all three branches of government for the next 50 years and to destroy all the remaining vestiges of the Constitution.
Trickle-down economics, the War on Women, Children, and Minorities, the elimination of all domestic spending, and the denial of man-made climate change complete the picture of the largest criminal organization in history and ONLY the criminalization of Conservatism will save us.
---------------------------------------------------------------------------------------------------------------------
"The Report Is Full Of Crap."
Dick Cheney On Senate Torture Investigation.
---------------------------------------------------------------------------------------------------------------------