The last time America really used

protests effectively was in the Vietnam War era

, but today's protests against the infestation of bad cops in our midst are a start.
Although William Faulkner noted, "Never be afraid to raise your voice for honesty and truth and compassion against injustice and lying and greed. If people all over the world...would do this, it would change the earth," the act of protesting seems to be dead and buried.
So is it a start, or will Americans still refuse to take advantage of their freedom of speech no matter how much they are driven to a state of abject poverty, no matter that our democracy has turned into an oligarchy?
"Nationwide, Protesters Rally Around Eric Garner."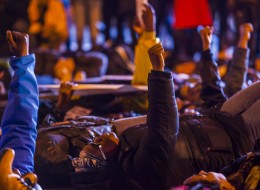 WASHINGTON, DC - DECEMBER 5 : Protesters demonstrate on the streets of Washington during a protest after two grand juries decided not to indict the police officers involved in the deaths of Michael Brown in Ferguson, Mo. and Eric Garner in New York, N.Y. in Washington, D.C. on December 5, 2014. (Photo by Samuel Corum/Anadolu Agency/Getty Images)
"Demonstrators around the country staged die-ins, blocked roadways and marched into stores to protest a New York grand jury's decision to not indict a white police officer in the chokehold death of an unarmed black man.
"Tensions were already running high around the nation because of a grand jury's decision last week to not indict a white officer in the shooting death of black 18-year-old Michael Brown in Ferguson, Missouri. On Wednesday, more protests erupted after a grand jury in New York City decided not to indict a white officer in the chokehold death of Eric Garner, a black man who gasped 'I can't breathe' while he was being arrested for selling loose, untaxed cigarettes.
"Hundreds of protesters marched and many briefly laid down in Macy's flagship store, Grand Central Terminal and an Apple store. They streamed along Fifth Avenue sidewalks and other parts of Manhattan, with signs and chants of 'Black lives matter' and 'I can't breathe.'
"News outlets reported that demonstrators later blocked traffic on the FDR Drive in Lower Manhattan, spurring arrests. Police didn't immediately have information on the number arrests.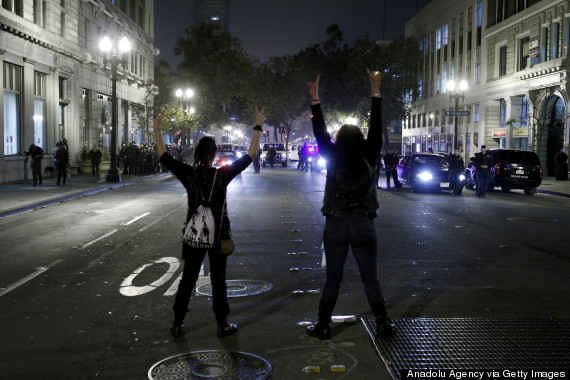 Protesters gather in Oakland in the wake of the grand jury decision.
"In Oakland, California, hundreds of protesters briefly blocked Interstate 880, a major freeway, on Friday night. There were no immediate reports of any arrests or injuries.
"Aren't there enough reasons to protest the vicious attacks that the Conservatives have made against this country time and time again?" (Click here for more --> http://www.huffingtonpost.com/2014/12/06/nationwide-protests-eric-garner_n_6280366.html
)
Let's take a quick pictorial look at what the Conservatism "movement" is all about
from one of the most honest and fearless of our Senators
: Criminality, NOT politics. And then YOU decide whether or not you should be out there protesting...
Conservatives hate democracy and are doing everything they can to eliminate it...
And we should ALL be protesting against the biggest scam since the Vietnam War, the billionaires and their Conservative lackeys...unless you're a Republican.
I'll bet that you're not protected by the five Conservative radicals in the Supreme Court, like this guy is...
"To sin by silence, when they should protest, makes cowards of men."
Ella Wheeler Wilcox.
********************
The battle between Conservatives and the People has been raging forever, and the biggest win for the People was the dethroning of the Divine Rights of Kings in Europe, the supreme reason for the belief that the upper classes were designed to rule over the rest of us.
There is no excuse for believing that the American aristocracy should rule us anymore, especially in a participatory democracy, but in the agonies of class warfare the rich are winning.
The current war started by Reagan was assisted by the likes of Limbaugh, Fox News, and the complete conquest of the radio by rightwing radicals.
Fighting against Big Money will not be won by demonstrations in the streets unless everyone gets out there and waves a sign.
It's WAY past time for criminalizing Conservatism, isn't it...
---------------------------------------------------------------------------------------------------------------------
"Disobedience is the true foundation of liberty. The obedient must be slaves."
Henry David Thoreau.
---------------------------------------------------------------------------------------------------------------------