Ferguson is a racist community, and combined with the spread of the police culture that says it's okay to gun down whoever you want at anytime because you're the police, all holy hell has broken loose.
It started with this...
And when citizens protested, it got even worse...
"
Shocking Video: Police Tear Gas Protesters with Hands Up – While Standing in Their Own Backyard!
"
"In Ferguson, Mo., police get to gun down unarmed teenage black kids with impunity. And if you don't like it? You'd better shut the f*ck up, or they'll blast you with tear gas..."
And then a police riot broke out and the idiot cops busted a politician and reporters from WaPo and Huffpo...
"
Ferguson Protests Met With Heavy Police Response, 2 Reporters And Alderman Arrested.
"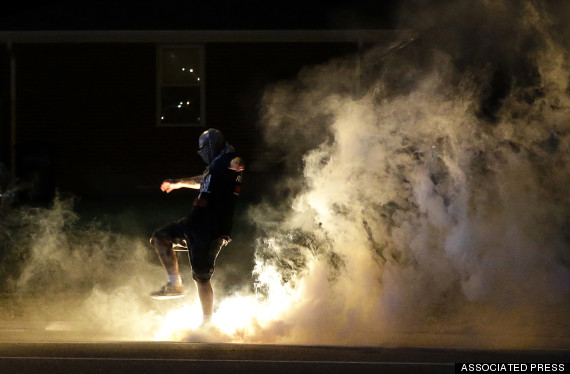 "Police violence broke out again in Ferguson, Missouri, Wednesday night, as the streets filled with tear gas, rubber bullets, heavily-armed SWAT teams and mine-resistant vehicles on the fourth night of unrest since Michael Brown, an unarmed African American teenager, was shot to death by police on Aug. 9.
"Mostly peaceful protesters in the St. Louis suburb, symbolically holding their hands in the air, were met with tear gas and smoke bombs fired so regularly that several reporters on scene noted it was hard to breathe. 'Shit, shit,' shouted msnbc.com'smaine Lee, as his network attempted to reach him amid an onslaught late in the evening. Stun grenades were fired, and police wearing camouflage fatigues and riot gear formed lines in the streets..."
Even if the media was going to put the Ferguson story on the back page, they were now waking up...
"
In Ferguson, Washington Post reporter Wesley Lowery gives account of his arrest.
"
"For the past week in Ferguson, reporters have been using the McDonald's a few blocks from the scene of Michael Brown's shooting as a staging area. Demonstrations have blown up each night nearby. But inside there's WiFi and outlets, so it's common for reporters to gather there.
"That was the case Wednesday. My phone was just about to die, so as I charged it, I used the time to respond to people on Twitter and do a little bit of a Q&A since I wasn't out there covering the protests.
"As I sat there, many armed officers came in — some who were dressed as normal officers, others who were dressed with more gear..."
Lord knows the town tried to contain it, and even with the town cut off and businesses closed,
the FAA has announced a "no-fly" zone over Ferguson, Missouri
through Aug. 18, citing a need 'to provide a safe environment for law enforcement activities' according to a notice posted to the agency's website...
The Supreme Court said that filming cops was a Constitutional right and that journalist were also protected, but cops don't care about your stinking Constitution...
"
It's Perfectly Legal To Film The Cops.
"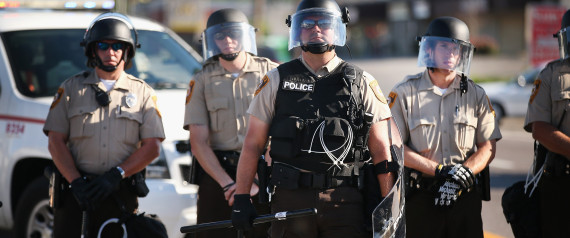 (Photo by Scott Olson/Getty Images) | Scott Olson via Getty Images
"Snapping photos of police in Ferguson, Missouri, may have gotten Huffington Post reporter Ryan J. Reilly arrested Wednesday night while he was covering protests prompted by the death of Michael Brown, an unarmed black teenager who was shot to death by a police officer.
"Reilly and Washington Post reporter Wesley Lowrey were detained and assaulted after attempting to film a swarm of police officers inside a McDonald's. An officer slammed Reilly's head into a glass window, and Lowery was shoved into a soda fountain while wearing press credentials around his neck. Both were later released without being charged with breaking any laws.
"'They essentially acted as a military force,' said Reilly, who was in the restaurant to charge his phone and computer. 'It was incredible...'"
When you let SWAT teams swarm into town to quash legal protests, something bad is going to happen...
"
Ferguson, Missouri Protest Of Michael Brown Death Swarmed By SWAT Team.
"
"Scores of SWAT officers swarmed Ferguson, Missouri, where unrest has broken out this week in the wake of a teenager's death...
"HuffPost's Ryan Reilly reported that a SWAT team of at least 70 people showed up the apparently peaceful demonstration. According to Reilly, cops told protesters to leave the area.
"'This is not open for discussion,' one officer said..."
So is the little guy too helpless in the face of all this police power to fight back? Anonymous
warned
Ferguson that they were going to get involved, but the mayor ignored them...
"
Anonymous To ID Michael Brown's Killer – Already Has Paralyzed Ferguson.
"
"The Hacker Collective Anonymous has certainly made its presence known to the town of Ferguson, Missouri. Since the announcement of 'Operation Ferguson' in response to the unprovoked gunning down of an unarmed teenager, Michael Brown, Anonymous has done more damage than any rioter. It has, in effect, shut down huge sections of the Ferguson city government. By shutting off their computer networks, turning off their phones, and releasing the information on the police officers who now attack journalists as well as their own citizens who seek answers, Anonymous has delivered on the ominous promise given just a few days ago..."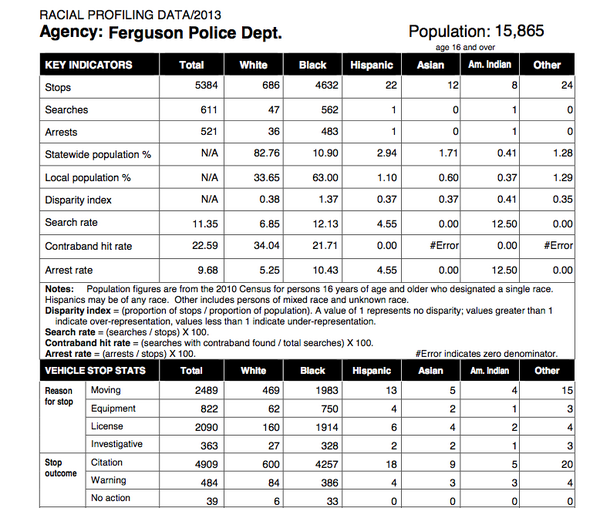 We've been posting stories and opeds on racist towns, racist cops, and police brutality for quite awhile, warning what would happen sooner or later, and Ferguson is now our "New Watts-Detroit-Selma-Little Rock-Montgomery of The North."
The town is just under a population of 16,000, it was always racist, and Ferguson is now going down in American history as the premier example of what happens when pure unadulterated anti-American bigotry combines with a town's pols letting their police act as SWAT teams to keep them in power.
Conservatives hate, Conservative love to keep people of color down, and Conservatism kills. If Conservatism had been criminalized earlier this never would have been allowed to happen. Stay tuned for more!
------------------------------------------------------------------------------------------------------------------------
"Most middle-class whites have no idea what it feels like to be subjected to police
who are routinely suspicious, rude, belligerent, and brutal."
Dr. Benjamin Spock.
------------------------------------------------------------------------------------------------------------------------