Whenever we think that things can't get worse they get worse, so there's no use fretting about things, is there?
Two years isn't that long a time, and a threat about another impeachment notwithstanding, let's see what can happen...
"
Democrats Fret Things Could Get Worse.
"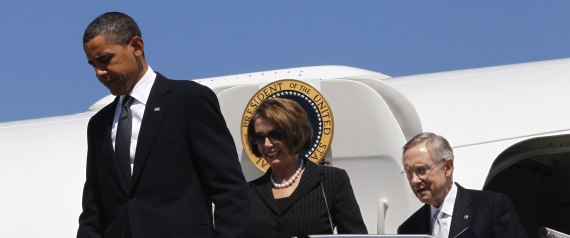 President Barack Obama, followed by House Speaker Nancy Pelosi of Calif., and Senate Majority Leader Harry Reid of Nev., arrives at Yeager Airport in Charleston, W.Va., Friday, July 2, 2010, to attend a memorial service for the late Sen. Robert Byrd,. (AP Photo/Charles Dharapak) | ASSOCIATED PRESS
"WASHINGTON -- In the days following their party's thrashing in the 2014 elections, Democratic operatives at all levels have been contemplating a frightening question. What if this is not rock bottom?
"The electoral landscape was certainly difficult, with high-profile Senate races in Republican-leaning states and the usual dip in turnout that comes in midterm elections, so things should turn around for the better in 2016.
"But a favorable year and demographics are only some of the components of electoral success. And there has been a rising sense of concern that the party lacks other critical elements: namely, a message that
addresses the top concerns of voters
and effective messengers to share it.
"'I think politically, we, the Democratic Party writ large, have to do some real analysis about the fact that what many people think is the emerging democratic electorate has now only shown up twice and only shown up for Barack Obama,' said Dan Pfeiffer, a senior adviser to the president, in an interview a few days after the elections. 'What does that mean in a post-Obama era? The technology and the field organization is very important. But organization is a mechanism to harness enthusiasm. And if you don't have enthusiasm, all the organization in the world is not going to get you over the top...'"
Can you spell "criminal conspiracy?" For starters, here's what happened this year...
And this is the sort of thing we'll be looking at until 2016...
"
GOP senator who wants the Postal Service to go bankrupt about to have oversight over it.
"
CREDIT: AP PHOTO/TOBY TALBOT
"Well,
this is confidence-inspiring
:
"In January, Sen. Ron Johnson (R-WI) is slated to take over as chairman of the Senate Homeland Security and Governmental Affairs Committee, which oversees the federal workforce and the entire Postal Service. Johnson has said that the Postal Service
should go through a bankruptcy process
that would result in a downsized, private corporation that would lose the benefits of governmental oversight and regulation. It could also allow the revised entity to terminate or substantially modify its contracts, including its collective bargaining agreements with various postal unions.
"Another solution, of course, would be for Congress to get out of the way of the Postal Service making money providing needed services like banking for tens of millions of people who don't have access to financial institutions. But for Republicans like Ron Johnson, the health of the Postal Service isn't the goal. The destruction of a public service and slashing public jobs is the goal. Happily, Johnson can't unilaterally make his wishes a reality. But he can certainly stand in the way of improvement..."
The Republicans aren't really worried at all and the Cosa Nostra only WISHES that once upon a time that it could have had the same "level playing field" as the Cons...
But at least our governors will be able to help the People...won't they?
"
2016 Contest Overshadows GOP Governors Meeting.
"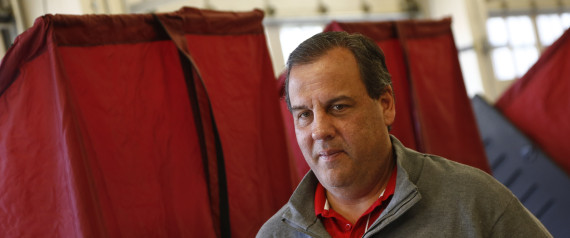 MENDHAM TWP., NJ - NOVEMBER 04: New Jersey Gov. Chris Christie waits to cast his vote in the midterm elections November 4, 2014 at the Emergency Services Building in Mendham Twp., New Jersey. All 12 of N.J.'s House seats are up for grabs today. (Photo by Jeff Zelevansky/Getty Images) | Jeff Zelevansky via Getty Images
"BOCA RATON, Fla. (AP) — No fewer than a half-dozen potential presidential candidates are gathering in Florida as the Republican Governors Association prepares to select its next leader.
"The organization's annual conference begins Wednesday in a luxury oceanside resort where the nation's Republican governors will celebrate their party's recent success in the midterm elections. Privately, they're jockeying for position as the 2016 presidential contest looms. None of the most likely White House candidates is expected to seek to replace New Jersey Gov. Chris Christie as chairman, a position with responsibilities that would conflict with the presidential primary season..."
Look at what the Cons have accomplished in just four years...
And look at what they have in store for us in the next two years, 'cause the Cons have plans for 2016...BIG plans:
"
The New Republican Plan To Rig The 2016 Presidential Election.
"
"Last week, Michigan state Rep. Pete Lund (R) revealed a plan that would rig the Electoral College to ensure Republican victories in 2016 and beyond if it were enacted in a sufficient number of states. Like similar proposals from GOP lawmakers who proposed rigging the Electoral College in the past, Lund's proposal takes advantage of the fact that there are several large states that tend to support Democrats in presidential election years but that are currently controlled by Republicans.
"Right now, nearly every state allocates 100 percent of its electoral votes to the candidate who wins the popular vote in the state as a whole. Lund's proposal would change that calculation in the blue state of Michigan, however, while continuing to award each red state's full slate of electoral votes to the Republican candidate for president. If this plan had been in effect in 2012, for example, Mitt Romney would have won a quarter of Michigan's electoral votes despite losing the state to President Obama by nearly 10 points:
"It should be noted that Lund's election-rigging plan is actually a milder version of a plan that has been around since at least 2011. More than a year before the 2011 election, outgoing Pennsylvania Gov. Tom Corbett (R) and state Senate Majority Leader Dominic Pileggi (R) proposed allocating their state's electoral votes one at a time to the winner of each congressional district, with the winner of the state as a whole receiving only two electoral votes for this achievement. Because Pennsylvania is one of several states that Obama won in both 2008 and 2012 that is highly gerrymandered to benefit Republicans, this proposal would have enabled Romney to win a majority of the electoral votes in states where he actually lost the popular vote:
(
For the rest of the story, go here -->
http://thinkprogress.org/justice/2014/11/18/3593173/what-you-need-to-know-about-the-gops-newest-plan-to-rig-the-2016-presidential-election/
)
And the Conservatives will call it "The Grand Plan."
"
The GOP's Grand Plan: Centering on Voter Suppression and Gerrymandering.
"
(Photo: Man vyi)
"The leadership of the Republican Party knows that, except in a few very high income neighborhoods, it cannot win elections running on its real program of tax cuts for the wealthy, bread-crumbs (if any) for everyone else, and ending government regulation of every sector of the economy from the banking industry to the production of energy. So ever since Nixon, and most especially since Reagan, they have necessarily engaged in what I have for quite some time described as 'The Rightward Imperative.' This means attracting voters to the GOP through religious determinism, enhancing bigotry, demonization, and so on and so forth.
"However, the true leadership of the GOP, of many of whom we have little or no knowledge, knew that someday this movement would run out of gas. Yes, after Ted 'Damn the Law' Cruz has come Joni 'Shoot the Law' Ernst, and you have Louie Gohmert and Steve 'immigrant children carry bags of dope across the desert' King, not all that many voters are going to go that way in national elections, as especially as the general economy stagnates. And so, the true, big money, leadership knew that they were going to have to go in a different direction. Rove's 'Permanent Republican Majority' would never appear. But a 'Permanent Republican Government' could.
"Which brings us to the Republicans' Grand Plan to achieve that end. It began back in 1992 with the hatching by the then, now defunct, Republican political ally, the Christian Coalition, of something they called "The 15% Solution." (I wrote a book with that title, on the theme of what the GOP/Religious Right would do if they were ever to attain significant power in US government. Originally published in 1996, the current edition is to be found here. 'The 15% Solution' itself is to be found on p. 17 of that book). It was a strategy designed to lower voting participation, down to a level where the loyal rightist '15%' could win elections, all by themselves. As Paul Weyrich, one of the creators of the Republican-Religious Right Alliance, a founder of ALEC (see below) and a founder of the Heritage Foundation, famously said: 'We don't want everyone to vote. Quite frankly, our leverage goes up as the voting population goes down...'"
(For more on the Permanent Republican Majority, go here -->
(
http://www.truth-out.org/buzzflash/commentary/the-gop-s-grand-plan-centering-on-voter-suppression-and-gerrymandering
)
Between now and 2016, let's see how many new voters you can help register!
This started out as a framework for political action over the next two years and turned into a piece about voter suppression and gerrymandering, which just sort of "happened."
Imagine what the nation and the world would be like if the Cons weren't allowed to rig the elections...no Dumbya, no GOP majorities in Congress.
But they ARE allowed to cheat, aren't they?
Maybe there's a better solution on the horizon...like criminalizing Conservatism.
--------------------------------------------------------------------------------------------------------------------------
"52% of Republicans thought that ACORN stole the 2008 election for Obama, so
this is a modest decline, but perhaps smaller than might have been expected given
that ACORN doesn't exist anymore."
Public Policy Polling.
-------------------------------------------------------------------------------------------------------------------------