Before we get into the question of cheating, let's take a look and see WHO you elected...and you DID elect them if you didn't vote or if you fell for their lies once again:
"
Unhappy With The Election Results? Just Look At The People Your Neighbors Voted Into Office.
"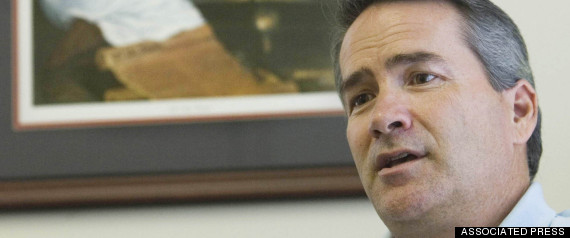 As the dust settles and we take a closer look at Tuesday night's election results, we can't help but wonder what some voters were thinking. As with every election, there were the incumbents who were able to win re-election, like Rep. Michael Grimm (R-N.Y.), who threatened to throw a reporter off a balcony, Rep. Charlie Rangel (D-N.Y.), who just won a 23rd term in Congress despite being found guilty of a number of ethics violations in 2010, and Rep. Don Young (R-Alaska), who joked about suicide just weeks before the election.
And that's just the tip of the iceberg in Congress. All hail the power of incumbency.
But there are some even stranger figures who got elected across the nation this week. Here are a few of them.
Jody 'Abortion Is Worse Than Hitler' Hice..." (Click here for the rest of the goons -->
http://www.huffingtonpost.com/2014/11/06/new-representatives-elect_n_6109016.html
)
And this is what you voted FOR...
And no introductions are necessary...
But on to our topic of the day: Did The Cons Rig The Election? If they did, here's why...
And here's how...
"
Gerrymandering Rigged the 2014 Elections for Republican Advantage.
"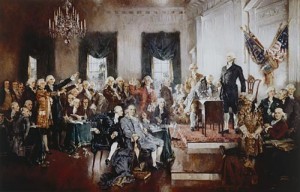 The drafting of the Constitution. The House of Representatives was designed to be a voice of the people.
"In the midterm elections, Republicans appear to have won their largest House majority since the Hoover administration. Republicans won on the weakness of Democratic candidates, a poor resource allocation strategy by Democratic party leaders, particularly DCCC chair Steve Israel, and an election narrative that did little to inspire base Democratic voters. That being said, in many ways, the game was rigged from the start. The GOP benefitted from the most egregious gerrymandering in American history.
"As Rolling Stone reported, GOP donors plowed cash into state legislative efforts in 2010 for the very purpose of redrawing congressional lines. In the following year, as the Tea Party wave brought hundreds of Republicans into office, newly empowered Republican governors and state legislatures carved congressional districts for maximum partisan advantage. Democrats attempted this too, but only in two states: Maryland and Illinois. For the GOP however, strictly partisan gerrymandering prevailed in Ohio, Pennsylvania Virginia, North Carolina, Georgia, Florida, Texas, Louisiana, Arizona, Tennessee and beyond..."
The second way the Cons rig elections is via voter suppression...
"
The GOP's Keep-In-The-Vote program worked.
"
"
As I wrote in September
, Virginia's voter ID law — one of many getting their first field tests in a slew of Republican-controlled states this year — had the potential to suppress turnout by at least two percent.
"At the time, I had no idea the state's senate race would be anything resembling close. And yet, Mark Warner eked out a win by less than a full percentage point against a candidate who straight up
stopped campaigning
in the weeks before Election Day. That election
will likely go to a recount
.
"These new voter suppression ID laws made it harder for millions of people to vote this year.
"As the Brennan Center for Justice noted yesterday, four states (Virginia included) had statewide races in which the margin of victory was
eclipsed or nearly eclipsed by the 'margin of disenfranchisement,'
which is the number of people affected by new voting restrictions..."
And last, but certainly not least, did the Citizens United decision by the Fascist Five change the outcome of the election? Let's see what their boss says...
"
Citizens United boss: Supreme Court ruling handed midterm elections to Republicans.
"
David Bossie (YouTube)
"Don't think
Citizens United
made a difference for the GOP in Tuesday's midterms? The plaintiff in the landmark Supreme Court case thinks so.
"'
Citizens United
, our Supreme Court case, leveled the playing field, and we're very proud of the impact that had in last night's election,' said David Bossie, chairman of the conservative advocacy organization.
"He complained that Democratic lawmakers were trying to 'gut the First Amendment' with their
proposed constitutional amendment
to overturn the 2010 ruling,
reported Right Wing Watch
, which allowed corporations to pour cash into campaigns without disclosing their contributions..."
So tell us, was the election stolen and did the Dems even have much of a chance?
The short answer is no, and the Cons will continue to do their dirty work as long as Americans think no laws have been broken.
The SCOTUS Fascist Five made sure of that. In a move almost as startling as their 2000 judicial coup d' etat that placed the worst president in history in the White House, they released their moneybag sponsors on the unsuspecting electorate just in order for the Cons to win.
No my friend, corporations are not people except in corporate minds...and it looks like democracy is cooked in the U.S. unless and until Conservatism is finally criminalized.
------------------------------------------------------------------------------------------------------------------------
"I wonder how many times you have to be hit on the head before you find out
who's hitting you? It's about time that the people of America realized what the
Republicans have been doing to them."
Harry Truman.
------------------------------------------------------------------------------------------------------------------------