Oh, you mean THAT man-made climate change. Let's check out one of the newest reports
...
"
New Reports Offer Clearest Picture Yet of Rising Greenhouse Gas Emissions.
"
PHOTOGRAPH BY GREG GIRARD, NATIONAL GEOGRAPHIC CREATIVE
"Coal-fired power plants—such as the one above in Shizuishan, China—are part of the reason for rising concentrations of atmospheric carbon dioxide.
"As the UN prepares to convene its climate summit, disturbing new numbers.
"Two days before the UN Climate Summit in New York, three new studies paint the clearest picture yet of rising greenhouse gas emissions and the dwindling opportunity for staving off the worst impacts—and also of at least one way that huge undertaking might be shared fairly among the nations of the world.
"'The overall outlook is rather bleak,' says Steven J. Davis, a climate scientist at the University of California, Irvine, who co-authored a paper published Sunday in the journal Nature Climate Change on how nations might share in reducing their carbon emissions.
"Davis points to the 'Global Carbon Budget 2014,; which was published Sunday in the journal Earth System Science Data Discussions. Produced by dozens of scientists from around the world, it's the latest in a series of annual reports showing that 'we're moving in the wrong direction,' says Davis.
"'We're talking a lot about putting the brakes on emissions, but we're actually accelerating...'"
If that's not enough, take a gander at another slant on the report
...
"
UN says CO2 pollution levels at annual record high.
"
"Carbon dioxide levels in the atmosphere reached a record high in 2013 as increasing levels of man-made pollution transform the planet, the U.N. weather agency said Tuesday.
"The heat-trapping gas blamed for the largest share of global warming rose to global concentrations of 396 parts per million last year, the biggest year-to-year change in three decades, the World Meteorological Organization said in an annual report.
"That's an increase of 2.9 ppm from the previous year and is 42 percent higher than before the Industrial Age, when levels were about 280 parts per million.
"Based on the current rate, the world's carbon dioxide pollution level is expected to cross the 400 ppm threshold by 2016, said WMO Secretary-General Michel Jarraud. That is way beyond the 350 ppm that some scientists and environmental groups promote as a safe level and which was last seen in 1987..."
But just wait until only a few people show up to protest the man-made climate change that may kill us all, that'l show 'em
...
"
Hundreds Of Thousands Turn Out For People's Climate March In New York City.
"
"NEW YORK -- More than 400,000 people turned out for the People's Climate March in New York City on Sunday, just days before many of the world's leaders are expected to debate environmental action at the United Nations climate summit.
"Early reports from event organizers are hailing the turnout as the largest climate march in history, far bigger than the Forward on Climate rally held in Washington, D.C., last year. High-profile environmentalists including Bill McKibben, Leonardo DiCaprio, Jane Goodall and Vandana Shiva marched alongside policymakers such as Sens. Sheldon Whitehouse (D-R.I.), Bernie Sanders (I-Vt.) and Charles Schumer (D-N.Y.). U.N. Secretary-General Ban Ki-moon and former Vice President Al Gore were also there, and more than 550 buses carried in people from around the country...'
Here's what happened
...
"
Inside the Biggest Climate March in History.
"
"Dogs, strollers, drums, hipsters, seniors, teachers, cops, scientists, politicians. Under a sticky New York fog, thousands of marchers—310,000, according to organizers' official estimates—streamed from Central Park, down Sixth Avenue, past Times Square and over to Manhattan's West Side. Passions were sky-high—and the dancing continued—even after the long walk.
"Aside from the powerful message about climate change and fossil fuel dependence, fracking stood out as a key focal point of the march. Young people also dominated the crowd—teenagers sang and danced, tweeting and Facebooking all the way.
"It's one of the biggest demonstrations we've ever seen, certainly since the anti-Iraq war protests. It was peaceful, vibrant and creative. Organizers are claiming it's the biggest in the last decade in New York City..."
If you were just watching the news on the tube, you might have missed the party
...
"
TV News Misses Yet Another Opportunity To Cover Climate Change.
"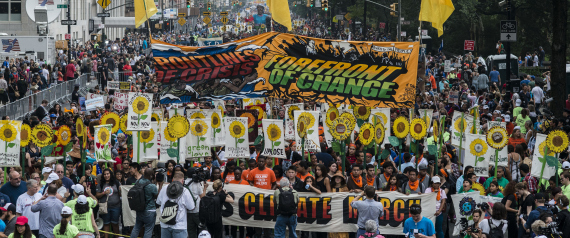 Photographer: Timothy Fadek/Bloomberg via Getty Images | Bloomberg via Getty Images
"Demonstrators hold signs on a street next to Central Park during the People's Climate March in New York, U.S., on Sept. 21, 2014.
"The People's Climate March on Sunday was perhaps the largest climate change protest in history. Hundreds of thousands of people took to the streets of New York City. Celebrities and high-profile politicians were among the marchers. The protest was a huge topic on social media.
"All in all, it was a perfect opportunity for some of America's biggest news organizations to cover the topic of climate change, something that usually gets either ignored or badly handled. For Sunday talk show hosts, there was even a nice political hook, since the march was pegged to a UN summit that President Obama will be attending.
"Well, so much for that idea. It seems climate change remains one potentially world-shattering issue that just can't get any respect on television. No Sunday morning show except MSNBC's "Up" so much as mentioned climate change, or the march. 'NBC Nightly News' was the only evening news show to do any segment on it. (ABC devoted about 23 seconds to the topic in its evening show, and CBS spent exactly zero seconds on it.) Cable news, with the exception of Al Jazeera America, mostly looked the other way, save for a couple of segments on CNN and MSNBC..."
What do you think the chances are that man-made climate change is a fraud and mass extinction is just a fairy tale?
Those who deny that man-made climate change is real are the oil companies and their shills on the right who hate science.
What are the possibilities that global climate change is past the tipping point and what do you think these deniers are going to do once the pubic realizes that they might have saved the planet if the media had only told the truth? Can you smell the tar and feathers?
There is ONE cure to save off extinction, if it isn't too late
...
------------------------------------------------------------------------------------------------------------------------
"Look, if Godzilla appeared on the Mall this afternoon, Al Gore would say it's global
warming, because the spores in the South Atlantic Ocean, you know, were. Look,
everything is, it's a religion. In a religion, everything is explicable. In science, you can
actually deny or falsify a proposition with evidence. You find me a single piece of evidence
that Al Gore would ever admit would contradict global warming and I'll be surprised."
Charles Krauthammer.
------------------------------------------------------------------------------------------------------------------------