Children are too young to understand the Conservatives' war against them, but women are catching on...
"
Women Don't Think The GOP Cares About Them, Internal Report Confirms.
"
"A new internal Republican report confirmed that women are not fans of the GOP, and Republicans have more work to do if they want the female vote.
"The report, which was
obtained by Politico
, found that although Republicans have tried to improve outreach to female voters, women still believe the party is "stuck in the past" and "intolerant." Forty-nine percent of women polled for the report looked on the GOP unfavorably. Only 39 percent felt that way about the Democratic Party.
"The study was commissioned by two conservative groups: Karl Rove's Crossroads GPS and the American Action Network..."
Now that the GOP knows it has a problem, they can start winning more elections!
"
Tom Corbett Makes Sexist Remark While Trying To Appeal To Women.
"
"Apparently, only women make dinner, according to Pennsylvania Gov. Tom Corbett (R).
"Corbett, speaking on a local TV program last month, claimed women would support his proposal to reform his state's liquor laws because it would save time while preparing dinner.
"'I think a lot of people want to be able to walk into a grocery store, particularly, a lot of the women, want to go and buy a bottle of wine for dinner, go down, buy a six-pack or two six-packs, buy dinner and go home rather than what I described as three stops in Pennsylvania,' he said..."
The He-Man Women Haters Club doesn't have any chapters in Congress, though...
"
Gillibrand: Congressmen Called Me 'Fat' After Baby.
"
"If there was any question as to whether sexual harassment exists among members of Congress, Sen. Kirsten Gillibrand (D-N.Y.) confirmed the answer in a new interview with People magazine.
"According to excerpts from the interview obtained in advance by the New York Post, the congresswoman recalled multiple male colleagues making disparaging comments about her body as she struggled with her weight after having a child.
"'You know, Kirsten, you're even pretty when you're fat,' an unidentified Southern congressman told her in the House chamber.
"'Good thing you're working out, because you wouldn't want to get porky!' another male colleague told her in the House gym, to which Gillibrand responded, 'Thanks, asshole.'
"Acknowledging that she was too heavy for her health, Gillibrand lost 50 pounds while she served in the House in 2009. But the comments followed her into the Senate the following year.
"Gillibrand said an older senator once grabbed her waist from behind and said, 'Don't lose too much weight now. I like my girls chubby...'"
Conservatives love children, except when war has been declared...
"
Seven US children are shot dead every day on average 'and we are as a country ignoring them.'
"
"For every U.S. soldier killed in Afghanistan during 11 years of war, at least 13 children were shot and killed in America.
"More than 450 kids didn't make it to kindergarten.
"Another 2,700 or more were killed by a firearm before they could sit behind the wheel of a car.
"Every day, on average, seven children were shot dead.
"A News21 investigation of child and youth deaths in America between 2002 and 2012 found that at least 28,000 children and teens 19-years-old and younger were killed with guns. Teenagers between the ages of 15 and 19 made up over two-thirds of all youth gun deaths in America.
"The News21 findings are compiled in the most complete database to date from records obtained from 49 state health departments and FBI Supplementary Homicide Reports..."
The Republicans' main supporter loves children too, even when they're not getting shot at!
"
NRA: 'Children Can Have Fun At The Shooting Range.'
"
"Less than two days after a 9-year-old girl in Arizona accidentally shot and killed a gun range instructor who was showing her how to fire an Uzi, the National Rifle Association on Wednesday touted new ways for children to "have fun" at shooting ranges.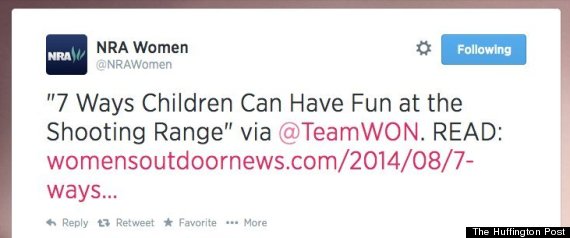 "The nation's largest gun lobby posted a tweet Wednesday afternoon to its NRA Women account that read '7 Ways Children Can Have Fun at the Shooting Range.' The tweet included a link to an article with the same title published on the website of Women's Outdoor News. A little over an hour after posting it, NRA Women deleted the tweet without explanation..."
When all is said and done, the Conservatives are always defended by the people who serve and protect us from the Conservative Three-fer: their War on Women, Children...and People of Color.
"
St. Louis County Police Chief Defends Aggressive Response To Ferguson Protests.
"
"CLAYTON, Mo. -- The head of the Saint Louis County Police, who oversaw the crackdown on protests in nearby Ferguson shortly after a teenager was shot and killed by a police officer there, is defending the way his officers used military-style equipment even during peaceful daytime protests.
"Chief Jon Belmar said Wednesday that in his opinion -- as well as in the opinion of police chiefs around the country -- much of the military-style equipment now used by police is necessary 'because we patrol very urban areas.'
"Belmar added that the St. Louis County Police had a responsibility to mitigate the threat of 'serious crimes' and 'certain terrorist events.' In practice, though, he said the equipment is used in armed barricade situations and, occasionally, in executing search warrants. He said he never anticipated he would ever use it against demonstrators.
"'I never envisioned a day in which we would see that type of equipment used against protesters. But I also never envisioned a day in 28 years that we'd see the kind of criminal activity spin out of peaceful demonstrations,' Belmar said.
"Responding to questions from The Huffington Post and other reporters at St. Louis County Police headquarters, the chief said he had no regrets about some of the more aggressive tactics used in Ferguson this month, such as releasing tear gas on the crowds..."
********************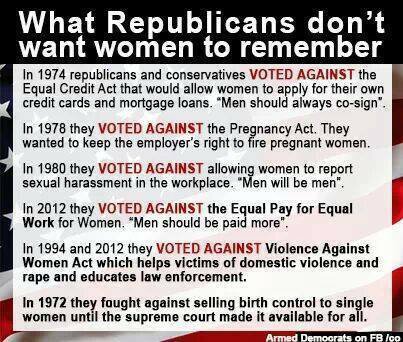 The real Conservative war is the War Against The 98 Percent, everyone who isn't a wealthy white American. The wars are plentiful: the War Against The Poor, the War Against The Aged, the War Against...you get the picture.
Conservatism is easy to define, it's not a reverence for the past, it's not about "individual responsibility," nor is it about abortion, "choice," or any other social issues that they pretend to advocate.
Conservatism is all about the money, even though they lose elections when they admit it -- as Romney and
even John Adams
found out 200 years earlier in the electoral shellacking they got when trying to convince the non-rich that the rich should rule over the 98 percent.
Do you want to end the relentless War Against The 98 Percent? Don't wait for a cease fire, just...
...criminalize Conservatism.
------------------------------------------------------------------------------------------------------------------------
"First they ignore you, then they laugh at you, then they fight you, then you win."
Gandhi.
------------------------------------------------------------------------------------------------------------------------