Along with their new love affair with Vladimir Putin, GOP adoringly shares with us their totalitarian roots by proclamation: the GOP is the Party of Nyet for never voting for anything, unless they can vote against everything.
Lyndon Johnson once said, "Republicans investigate, Democrats legislate," thus proving that your "grandfather's Party" is still the same old bunch of Conservative obstructionists.
Let's take a little walk through the Conservatives style of "legislation"...remembering along the way that it doesn't matter what the People think.
But Conservatism helps us, doesn't it?
In the States, Conservatives
do
legislate...but it still comes out "Nyet."
"
Missouri Governor Vetoes 'Extreme And Disrespectful' Anti-Abortion Bill.
"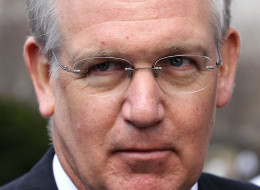 Missouri Gov. Jay Nixon (D) vetoed an anti-abortion bill he called "extreme and disrespectful."
"Missouri Gov. Jay Nixon (D) vetoed a bill on Wednesday that would have tripled the state's mandatory waiting period before an abortion to 72 hours, even in cases of rape and incest.
"House Bill 1307 would have required women to wait three days after an initial consultation before being able to have the procedure. The bill also would have required doctors to present the women with materials about fetal pain and an image and audio of the heartbeat from her ultrasound.
"The state's one abortion clinic is in St. Louis, so women in remote areas would have had to travel up to 300 miles twice in three days, or arrange lodging in the city during the waiting period, in order to meet the new requirements..."
And once the Conservatives say something, they never go back...unless they get caught.
"
House Ethics Committee To Reinstate Key Disclosure Rule For Lobbyist Gifts.
"
"WASHINGTON (AP) -- In an abrupt retreat, the House Ethics Committee said Thursday that it was dropping changes it had made in how lawmakers publicly report trips they take that are financed by interest groups.
"The bipartisan panel said House members will have to continue filing brief information about privately financed trips in the public reports they file annually on their personal finances.
"Just Tuesday, news organizations reported that the ethics committee would no longer require that information on those forms. That drew howls from open government advocates and House Minority Leader Nancy Pelosi, D-Calif., though Republicans noted that Democrats on the ethics panel had signed off on the change.
"In a written statement, the committee said it was withdrawing the change 'in light of feedback we have received from our fellow members and after further consideration.' It said the decision reflected the committee's goal of enforcing House rules 'in a manner that protects the integrity of the House...'"
The Party of No goes on...
And on...
And on...
And on.
The obstructionist Conservative Congress is not only keeping our hands tied it's killing our democracy, and as this meme from Quotable Liberals says, "In any other circumstance, this would be criminal conduct.'
Criminalize Conservatism now, before it's too late.
-------------------------------------------------------------------------------------------------------------------------
"The oil and gas industry gets no subsidies, zero, nothing."

Jack Gerard. (President of the American Petroleum Institute, whose industry gets
$4 billion a year in tax breaks.)
-------------------------------------------------------------------------------------------------------------------------